Questions You Should Ask Yourself When Choosing a College (Part 2)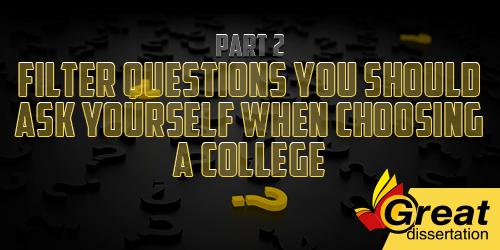 In this article, we continue discussing the main questions you should find answers to before deciding on a specific college. So, here we go:
Part IV: The Main Aspects of Life on Campus
Campus life is really versatile. Regarding this area, you will have more questions in your mind that you could ever imagine. Each of them should be addressed individually according to specific prerogatives and preferences. However, there are some general aspects that require your careful consideration:
Think of what resources the college can offer you. By this, I mean medical facilities, computer classes, access to the libraries and databases, gyms, career centers, places for extracurricular activities, laboratories, and so on. Actually, the facilities will depend on your major and your sphere of interest.
Investigate what extra benefits students can enjoy there. This is also an individual sphere as it depends on students' tastes. However, these extra benefits entail far more than some basic facilities mentioned above.
Think of the accommodation options: would you like to rent a room/ flat or live in the dorm? Besides, can you satisfy your dietary needs or preferences when living in the residence halls?
What about the student fraternity or any other community? Would you like to join it? What benefits does it offer? Does it follow diversity needs? Do you feel like you will merge into it without any problems?
What about religious affiliations the school can offer? Are you more likely to enjoy it or not?
How developed is social life at college? Are there enough of student clubs? Can you get frequent chances of enrolling yourself in some kind of activities? Are the extracurricular activities interesting and popular among students?
Can the life on campus be considered as safe?
Part V: Factors Influencing Career Development
Now it may seem to you far-fetched and far off, but it is a crucial factor to consider if you would like your college life to pay off some benefits in the future.
What exchange programs or internships does the college offer?
What are the chances that you could participate in some of such programs?
What benefits are provided by the career center based on your college?
Do the graduates of the college find jobs without difficulties? What is the unemployment rate among this college graduates?
Part VI: What to Ask Current Students
Ask college students about their studying experience:
How would they evaluate their experience there?
Are they satisfied with the quality of teaching?
Are the relations with faculty members tough or friendly?
What is the most enjoyable thing about the college?
How would they rate accommodation/ food/ facilities on campus?
Are students friendly and helpful?
Is it easy to take on some minor?
What are the main benefits they have already derived from their studying?
What advice can they give you before you decide to enter the college?