What Is a Hook in an Essay and How to Write It Well?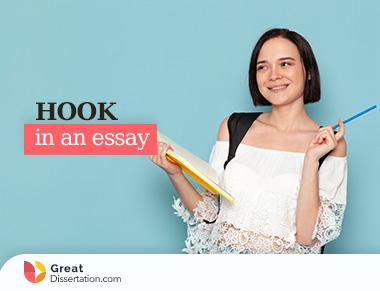 When you are looking for a book to read or a film to watch, you will definitely pick up the one that would grab your attention because you don`t want to spend your precious time on boring things. Nowadays, when thousands of books and articles are written and thousands of movies are directed, people are very selective. Having very limited time, they will definitely choose something that would spark their interest from the first lines. The thing that attracts the reader at the very beginning of the piece is called a hook. It is very important to know what a hook in an essay is because a hook turns a simple essay into a creative masterpiece. In our guide, we are going to provide you with a more detailed analysis of a hook, as well as explain how to engage your reader when producing an essay. What is more, we will provide you with a couple of hook examples so that you could choose the most appropriate one for your essay.
Ironically, but the most interesting book may remain unnoticed if its first lines are boring or dull. Nowadays, people are overwhelmed with the information, thus they can easily put the book away if it does not seem interesting to them from the very first lines. To put it simply, a hook is an attention-grabbing statement that aims to engage the reader from the very beginning. When you need to write an essay, you will need to include a hook statement in your introduction. Basically, it is a part that helps the reader figure out if your essay deserves their attention.
The effectiveness of the hook can be evaluated by how well it motivates the audience to read the entire text. A hook statement always appears in the introductory paragraph since its primary goal is to engage the reader. A proficient writer knows how to intrigue the reader from the very beginning, thus they are fully aware of the hook`s importance. A well-written hook statement is engaging and interesting because it has to intrigue the reader from the very beginning until the end of the essay. Without a hook statement, an introduction may seem boring and dull. When you are writing a persuasive or an argumentative paper, it is particularly important to include a thought-provoking statement that will give a hint of what topic is analyzed in the essay. In fact, no matter what essay you will need to write, you should take some time to figure out what statement would allow you to catch the reader`s attention.
The problem is that once the student includes a good start, they may forget that the rest of the paper should be interesting as well. When writing a hook statement, as well as the entire essay, it is necessary to keep in mind who your target audience is. By having this information, you will be able to build your arguments successfully. If you read the well-written essays available on the web, you will find it easier to figure out what is a hook in an essay and how to write it properly. Pay attention that copy-pasting any ideas from these essays is strictly forbidden because your professor wants to see the results of your own work in the essay. Now, when you know why a hook is so important, let`s provide you with efficient suggestions on its writing.
How to Write a Hook Sentence?
Before we tell you what types of hooks exist in academic writing, let us provide you with the efficient tips that should be considered when creating a hook.
You should have a clear vision of what essay you are supposed to write.
There are various types of essays. Of course, a definition essay, a descriptive essay, a compare and contrast essay, and a cause and effect essay have different characteristic features. As such, you will need to select different strategies for writing these essays. Before you start working on an assignment, you will need to clearly understand what you are supposed to write in your paper because, in such a way, you will be able to come up with an appropriate hook statement.
You should not underestimate the importance of an outline.
A lot of students consider writing an outline as a waste of time, though we would like to assure you that a well-written outline is a great organizational instrument, which allows keeping the ideas discussed in an essay in a logical order. By writing a good hook at the beginning of your outline, you will be able to develop your arguments in a logical and comprehensive way.
Understand who your target audience is.
Each group of people has its own needs and preferences. To write your essay in an appropriate way, you will need to know who your reader is. This information will enable you to choose the right tone and style for your essay. If you are writing your paper for children, you will need to come up with a hook that would make them interested. If you are writing your essay for skilled professionals, you will need to come up with a hook that would make them read the rest of your document.
Examples of Engaging Hooks
Begin with an Interesting Fact
"After the thorough analysis of the marks they have seen on mummies, archaeologists believe that human beings had tattoos in ancient Egypt between 4000 and 2000 B.C.."(David Shields, "Tattoos").
This example of a hook is pretty effective because it provides the reader with interesting information. In fact, such a hook is the most popular in academic writing and is widely used by students. If your audience is going to read an essay about Egypt and its culture, they will read your essay trying to find any other interesting facts.
Claim a Thesis
"Only several aspects of the American mythos define a sophisticated set of relationships with the African American experience."(Pamela Swanigan, Much the Same on the Other Side)
In this case, a hook can also serve as a thesis statement. Of course, in some essays, you may include both of them. However, if you think that your thesis is pretty engaging, you may combine it with a hook.
Include a Good Literary Quote
"He, who is devoid of the power to forgive is devoid of the power to love."
A famous quote from Martin Luther King will definitely resonate in the heart of your reader. The wisdom of this great man is beyond any doubt. By including this quote in your introductory paragraph, you will be able to make the right impression on your target audience. Pay attention that the quote should be relevant to the topic of your essay and formatted in accordance with the style requested by your tutor.
Write an Appropriate Joke
"A Chukcha comes into a shop and wonders: "Do you sell color TVs?" "Yes, we do." "I want to buy a yellow one."
Every day, our friends, colleagues, and family members tell us interesting jokes. Of course, a vast majority of these jokes cannot be put in your essay because they are not appropriate. However, if you manage to include a good anecdote in your essay, you will make your readers laugh, which will make a good impression on them. When people laugh, they get rid of stress, which will significantly increase your chances of getting a good grade. In fact, humor is one of the best ways to deal with problems and daily routine. However, when including a joke in your paper, you don`t need to maintain a humorous tone of the entire piece. For instance, the example provided above may be a good hook for an essay about stereotypes and prejudices faced by people.
Strike Your Audience with Statistics
"According to recent findings, 95% of today's students spend more than 40 hours each week playing video games."
If you want to grab the reader`s attention with only one line, you will need to include striking facts or statistics. By doing this, you will convince your reader that you have done thorough research and have many other interesting things that will be provided in your essay. If you manage to find striking statistics on your topic, you will come up with a great hook statement that will grab your reader`s attention.
Make Up a Contradiction
"Mrs. Davidson's freaky dress was not the best choice. A 40-year old woman should change her dressing habits."
You should know that a contradiction is a very good trigger. If your reader does not agree with your claim, they will read the entire piece to read your arguments. Pay attention that you can make your reader irritated, though making them bored has a negative effect.
Pose a Rhetorical Question
"How much money would you spend to save the life of your beloved ones? Do you want to live forever? Can money bring you happiness?"
People are certain that all questions should have answers, however, it is not true. There is a specific type of question, which is called rhetorical. One cannot answer such a question clearly because there is no one definite answer to it. Although the answers to these questions may seem obvious, this topic may be discussed on many pages. You may write a hook about hate, love, loneliness, moral values, etc. If your rhetorical question resonates in the hearts of your readers, they will follow the rest of your ideas.
All in all, there are many other efficient strategies that will help you create a good hook for your essay. By becoming a skilled writer, you will be able to feel what hook would engage your target audience. Thus, we highly recommend you practice your writing skills by producing different kinds of essays. Do not forget that by learning what is a hook in an essay and how to write it well, you will be able to impress your tutor with a professional approach to work. We do hope that our suggestions have helped you understand how to create great hooks. Boost your academic results by following our suggestions!